Many of you all have asked about our lil angel Jahi McMath from the article we 
posted back in January. Jahi is the 13 year old girl from Oakland who slipped 
into a coma after a routine tonsillectomy. 

After being thrown out of the hospital who performed the procedure, Jahi's parents moved their daughter to a nursing facility that would monitor her with a breathing tube. Sam Singer, a spokesperson for the hospital who performed the removal of Jahi's tonsils, has said in a statement that, "We have done everything to assist the family of Jahi McMath in their quest to take the deceased body of their daughter to another medical facility. Tragically, this young woman is dead, and there is no food, no medical procedures and no amount of time that will bring back the deceased." That's kinda cold, don't y'all think?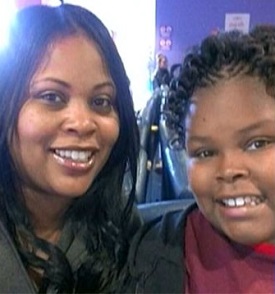 Anyway, 4 months later, Jahi's mother and father continue to hold out hope that their lil girl is living and is aware of her surroundings. This is what mom Nailah Winkfield, told National Right To Live news recently. Since Nailah quit her full time job at Home Depot, the nursing home staff says she never leaves her daughter bedside. Nailah is also the mother of 2 more daughters and a son, but relatives are taking care of them right now. The hopeful mother claims that Jahi is very responsive and actually shows signs of life. She moves her head from side to side, and she bends at the waist while turning over in the bed. 

At the moment, Jahi is unable to speak or squeeze anybody's hand. She continues 
to be nourished through a feeding tube and vitamins and fish oil her Mother 
supplies. 


Other things Nailah does to pass the time away is read the Bible, read other 
case studies similar to Jahi's condition, and give her baby girl manicures and 
pedicures. Check out this fly nail art Jahi rocked on St Patrick's Day!


It looks like Jahi's mom is not giving up without a fight. We're hoping for the 
best and pray that The Lord will heal this child. However, someone needs to be 
realistic. I would hate for Nailah to look up one day, and realize that she 
missed key moments in her other three kids' lives. 

What do you all think? Do you agree with Nailah and her stubborn will, or is it 
time to throw in the towel?