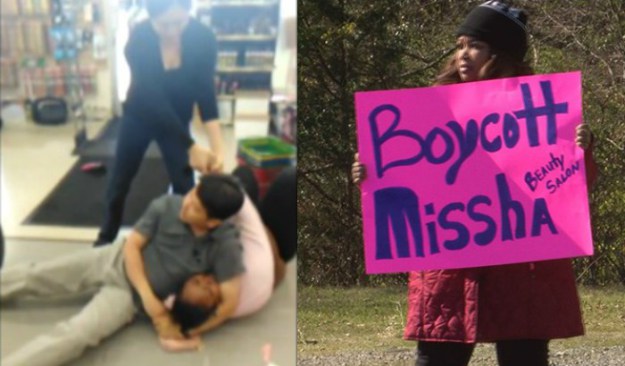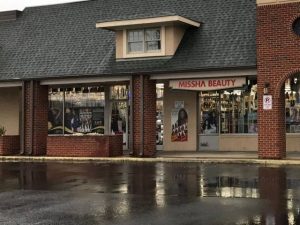 "Community leaders and customers of a west Charlotte beauty supply store showed up to the store Sunday, calling for a boycott after cellphone video showed the owner, an Asian man, kicking and choking an African-American woman.
Sung Ho Lim is the owner of Missha Beauty. He said this all started when the woman in the video, who has not been identified, was caught stealing.
In the video, you can hear the woman tell Lim, "Check my bag. I don't have anything."
You then see the two shove each other, at which point Lim said, "You hit me."Moments later, Lim kicks the woman, knocks her to the ground and puts her in a choke hold. WBTV showed Lim the video, and he confirmed it is him, but he also said the part when she stole an item is not captured by this video.
"This is my fault," Lim said. "I have to take the whole video and give it to the police."
Lim said he is going to provide the security footage in his store to the Charlotte-Mecklenburg Police Department.
According to a police report that Lim filed for strong armed robbery, the incident happened Thursday. The report says the woman stole eyelashes from the store. Police say no arrests have been made.
The community leaders and customers who showed up to Missha Beauty on Sunday afternoon said they are not satisfied with Lim's defense.
They said even if the woman stole something, he should not have attacked her as he did.
"When he was choking her, he was almost choking her to death. She was gasping for breath, and he was continually choking her," said Teresa Mosely.
Mosely said she buys from Missha Beauty three times a week, but won't anymore after seeing the video.
Civil rights activist John Barnett also showed up to the protest.
"You cannot take police matters in your own hands. You can't act like the police," Barnett said. "Whatever the case may be, we know he cannot be keeping someone in a choke hold, stealing or not.
Members of the Charlotte-Mecklenburg chapter of the NAACP also joined the protest.
Corine Mack said the video was disturbing.
"He took it upon himself to treat her in a way that no woman should be treated. In fact, no person should be treated," Mack said. "That's why I'm so disgusted and hurt."
Lim met with the protesters and apologized.
"I don't know, it just happened. I went crazy," Lim said. "No matter what the reason, I feel very sorry to her and to them."
Mack said Lim needs to apologize to the African-American community in Charlotte.
"Guess what, we are the ones who go to his store on a regular basis, and allow his family to live a good quality of life," Mack said.
Lim said he plans to apologize to the woman he choked Monday."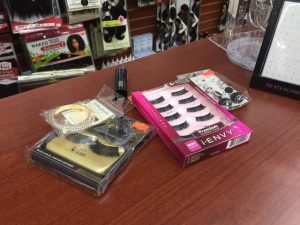 OK. Y'all ready to see the video that's going viral? LET'S GO.
Can y'all believe this crap?? First of all, it doesn't matter how many lashes this young lady allegedly stole. This was not the proper way to enforce the law. That's why we have police officers who are on standby whenever we need them. And what about that half-hearted apology this dude issued to the local leaders of the community. Obviously he doesn't care that he almost squeezed the life out of another human being. I hope the community continues to boycott this business until these folk learn their lesson. This man should be punished just by the high-flying kick alone. Even if this was a MAN who was caught stealing, this is no way to take the law into your own hands. Thank God the owner of the store fired this combative sales associate moments after the incident. Do you all agree with my opinion on this matter? Let me know what you think about this brawl in the beauty supply store!