We have bad news to report about two young men who were both reported missing a couple of weeks ago. Their bodies were found four miles away from each other in Macon County. Edward Reeves, aka Bambino Gold, and promoter Kendrick "Skooly Kee Da Tooly" Stokes were born in Alabama, but moved to Atlanta to further their careers. They traveled to Montgomery, Alabama to host a party at Sky Bar on Saturday, November 4. The two were reported missing on November 7, after family lost contact with them late Sunday night.
Here's all we know right now.
"Two bodies found in a rural Macon County area overnight are believed to be those of an Atlanta-based rapper and his promoter cousin, both missing nearly two weeks.
Macon County Sheriff Andre Brunson said investigators believe the victims are Edward Reeves, also known as Bambino Gold, and Kendrick Stokes, also known as Skooly Kee Da Tooly. Their bodies have been taken to the Alabama Department of Forensic Science for confirmation, Brunson told AL.com Saturday morning.
The first body was found about 5 p.m. Friday off of County Road 13. Brunson said somebody walking in the area made the discovery and told a friend who then called law enforcement. Sheriff's officials, including Brunson, responded to the scene and confirmed what the person saw was indeed a body.
The scene was secured and an investigation launched. A deputy searched overnight in the area and discovered the second body about 4:30 a.m. Saturday off of Highway 80. Brunson said the two bodies, obviously victims of homicide, were about three to four miles apart. "They were not far off of the road at all," the sheriff said. "It looks like somebody placed them there. I don't think they were killed there."
"It's very sad," Brunson said. "My heart goes out to the families and we're working hard to get to the bottom of this."
Reeves, 29, and Stokes, 30, were cousins by marriage and longtime friends. Both originally from Montgomery, Stokes was in his hometown on Saturday, Nov. 4, to promote a party at Sky Bar on Debby Drive. Reeves came to town on Sunday and shortly after 9 p.m. they left Stokes' house to attend the Alabama National Fair. "A lot of people saw them there," Stokes' mother, Felicia Stokes Webster, told AL.com in a previous interview. Then, she said, "They just vanished into thin air."
After a couple of hours, they left to head back to Atlanta but Reeves said he had to make one stop at a friend's house. That was about 10:55 p.m. Reeves and the friend talked briefly, and then Reeves and Stokes left.
The friend said the men were supposed to return and when they didn't, he began to try to reach Reeves by cell phone. By 1 a.m., Reeves' phone was going straight to voicemail. The following morning, other loved ones also tried to call both men but, again, they only got voicemail.
"Between 11:30 p.m. and 1 a.m., something happened between that time," Webster said. "What happened, we don't know."
Reeves and Stokes were last seen in a 2016 white Honda CRV. It wasn't clear whether that vehicle has yet been found.
Stokes started working as a promoter when he was just a young teenager, she said. Up until his disappearance, they talked every day to pray together. Each morning, Webster would send her son scripture to study for the day. "I talk with him every day," she said. "This is not like him. He reads His word and he prays."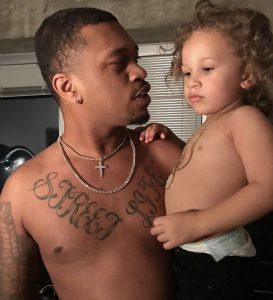 Reeves, a father, has appeared on over 150 mixed tapes since 2011 and has featured with artists such Sy Ari Da Kid, Boosie Badazz, Ray Vicks, Eldorado Red, and Doe B. Alley Boy, according to published reports. Reeves in September 2017 YouTube video discusses surviving a previous gunshot wound."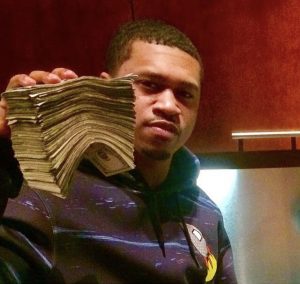 Such a waste of life. Now Macon County Sheriff's Office, the Montgomery Police Department and the State Bureau of Investigation are all working together to catch the monsters who wiped out these two men lives.
Ironically this isn't the first time Bambino Gold had been shot by his haters. Back in September, the up and coming rapper was hospitalized after being shot in the face. Here's a clip of Bambino talking about his near death experience.
It appears that someone was desperate to take Bambino Gold out….no matter what the cost. Perhaps Skooly was just at the wrong place at the wrong time.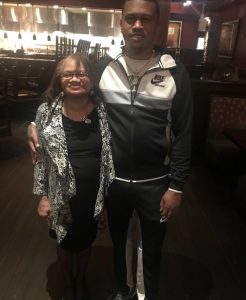 We are sending our heartfelt condolences to Bambino and Skooly's loved ones. These fellas were just getting started in their careers. If you all have any information on who may have shot these young men,  call Crime Stoppers at 334-215-STOP.