Another legendary singer has left us y'all. The Main Ingredient swooner Cuba Gooding Sr., father to actors Cuba Gooding Jr. and Omar Gooding, was found dead today in his car. Investigators are saying that it may have been a possible drug overdose, but they won't be certain until the toxicology report comes back.
Here's more from our folk over ABC7 News…..
"WOODLAND HILLS, LOS ANGELES (KABC) —
Cuba Gooding Sr., a soul singer who had his biggest hit in the 1970s with "Everybody Plays the Fool," was found dead in a car in Woodland Hills Thursday afternoon, officials said.
Gooding was found in a 2012 silver Jaguar in the 22100 block of Ventura Boulevard around 1 p.m. He was 72 and would have turned 73 next week.
Police are still investigating the cause of his death, but say there were no immediate indications of homicide at the scene.
The Los Angeles County coroner's office said there were several bottles of alcohol as well as drug paraphernalia found in the vehicle, but they would not be more specific. They said it appears he died either of natural causes or a drug overdose and they are awaiting a toxicology report.
The car was seen pulling up to the location around 3:30 a.m. and Gooding was last seen alive around 10:30 a.m., officials said. Someone noticed an unresponsive body in the car and called authorities around 1 p.m. Paramedics responded and tried to treat him, but he was pronounced dead at the scene.
Gooding Sr. and his wife, Shirley, married twice, first in 1974 and then remarried in 1995. They had four children together: actors Cuba Gooding Jr., Omar Gooding, April Gooding and musician Tommy Gooding."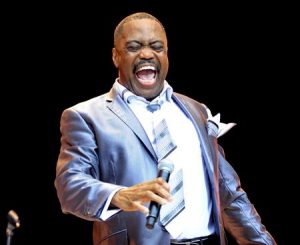 I can't believe he died right before his birthday. He may have started celebrating a lil too early, huh?
Of course, we want to send our sincerest condolences to the entire Gooding family, Mr. Gooding's band mates, and his fans around the world.
In the meantime, let's check out Cuba Gooding Sr. singing a few of his classics…..including "Everybody Plays The Fool."
Rest in peace Mr. Gooding.