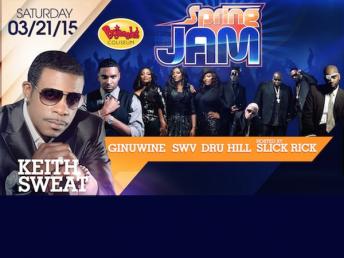 If you guys are are heavy 90's music fans like we are, then this is a concert not to miss. Keith "Begging" Sweat, along with SWV, Dru Hill, Slick Rick, and Ginuwine, will be in concert next month as a part of the Spring Jam 2015 tour.
The Bojangles Coliseum in Charlotte,  NC is hosting the highly anticipated event to celebrate the beginning of Spring on Saturday, March 21st.
Here's more deets straight from the Bojangles Coliseum website.
Charlotte welcomes SPRING JAM to Bojangles' Coliseum on March 21st, 2015. This year's lineup features multi-platinum award winner Keith Sweat along with Ginuwine, Dru Hill, SWV & Slick Rick. Show time starts at 8:00pm and doors at 7:00pm. Come party with some friends and jam to your favorite hits from the 90's. This concert will have you dancing all night long. 
Now tickets are on sale through Ticketmaster right now. Go visit their website or either call by phone at 1-800-745-3000 . You can also call Bojangles directly at (704) 372-3600, or visit the website for even MORE info.
Five mega artists who have had numerous number one hits all on one stage. The place to be is Bojangles Coliseum located at 2700 East Independence Blvd in the heart of the Queen City. Go get your tickets! And now…..y'all are officially in the know.