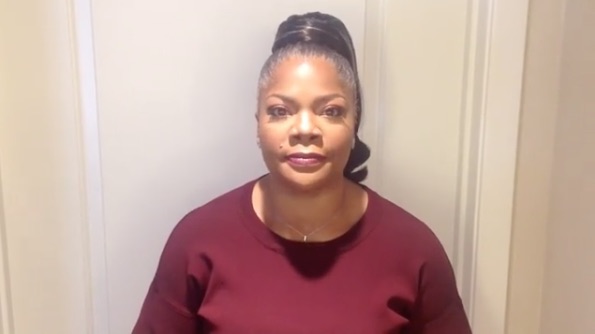 I'm sure by now you all have heard Monique's plea to boycott Netflix. Well in case you haven't, let us bring you up to speed. Academy Award-winning actress/comedian Monique has been very upset with the entertainment company for offering her $500,000 for a comedy special. Yes, that may seem like a lot of dough to us, but for Mo its peanuts; especially considering the company offered Amy Schumer a cool $11 mil. To make matters worse, Mo also found out that Netflix offered comedians Chris Rock and Dave Chappelle a whopping $20 mil a piece for their stand-up special. Let Monique explain the issue at hand:
Now that we're all caught up, let's take a look at how our black community has responded on Twitter to our girl's plea. Our top 20 "Boycott Netflix for Monique" Tweets (viewer discretion advised):
1.
I aint boycotting shyt!!!! pic.twitter.com/ipfovowFOp

— Steven W. Brown (@comicstevebrown) January 21, 2018
2.
Monique tryna get us to boycott Netflix? pic.twitter.com/kJSRgTMXTP

— OMG, LaJethro (@LaJethroJenkins) January 19, 2018
3.
My netflix payment just came out of my account.. I ain't boycotting a damn thing. pic.twitter.com/sHdksuIMgY

— Shameika R Writes 📝💖💚 (@Mofochronicles) January 19, 2018
4.
Monique: "Boycott Netflix"

Netflix: "Are you still watching?"

Me: pic.twitter.com/0dK9ZA2arW

— Sam F. (@Sammyveli) January 19, 2018
5.
Monique: "Boycott Netflix"

Me: pic.twitter.com/kkg9bOUbje

— Roxxy Haze (@iamroxxyhaze) January 19, 2018
6.
Me watching Netflix after acting like I'm supporting Monique's boycott pic.twitter.com/iST0nqYfEZ

— Da$h (@1HunnitDash) January 20, 2018
7.
How imma boycott Netflix through other people's accounts?

Be reasonable, Monique. Hire a better lawyer.

— mobbdeen (@Deen8) January 19, 2018
8.
Me looking at Monique trying to get us to boycott Netflix pic.twitter.com/5gvcvZz13X

— Beyonce has an uncle named Larry Beyince. Bruh…. (@DragonflyJonez) January 19, 2018
9.
We were really about to boycott @netflix for Monique then this happen. . . pic.twitter.com/fTTOE0Bgaf

— TIMH Clothing (@ThisIsMyHustle) January 22, 2018
10.
Monique: "Boycott Netflix"

Us: pic.twitter.com/rg1tbIbs71

— Nigfrica (@_JukeBoxx) January 19, 2018
11.
I love us, niggas was like "boycott Netflix for monique 🤔🙅🏾‍♂️ nah" but proceeded to RT her all down the TL all weekend in support 😂😂🤷🏾‍♂️ we do what we can lol

— Ru$$ saw you last night (@Honestly_G) January 21, 2018
12.
"Hey my loves I'm asking u to stand with me and boycott Netflix with me" -MoNique pic.twitter.com/WzvkQ9fAmG

— Brandon (@TheJokerJavis) January 20, 2018
13.
Love you Monique but if I boycott Netflix my family/friends would never visit me again https://t.co/IoslM7IcpM

— J. Bachelor (@J_Bachelor) January 19, 2018
14.
My response to Monique wanting me to #boycott @netflix #bruh 🤔🤦🏾‍♂️ pic.twitter.com/wDwxf8Ps5G

— Pierre Up There (@PierreUpThere_) January 19, 2018
15.
Monique asking people to boycott Netflix might be her funniest joke ever. I'm still laughing at her.

— Greater Sign Slick (@SlickBE_) January 19, 2018
16.
When Monique asks people to boycott @netflix but that's the main way you watch tv pic.twitter.com/3yCGyGOiDx

— Tyrah Walker (@tyrahwalks) January 19, 2018
17.
Monique wants us to boycott @netflix . I'm sorry girl, I caaan't. Netflix is the Offset to my Cardi B. They wrong tho. pic.twitter.com/N0WAstkQi2

— Shay T. (@GoShayShay) January 19, 2018
18.
Monique wants us to boycott Netflix? In this cold weather?? 😂😂😂

— Gave Chapelle 🇳🇬 (@NacksonD) January 19, 2018
19.
Monique: I need you to boycott Netflix cuz they only offered me 500k and I'm a legend ! Stand w me!

Me: #Netflix #monique #lol pic.twitter.com/vfIWHjxZx6

— $UNDAY (@iAMcollinjames) January 19, 2018
20.
Sorry MoNique but I can't boycott Netflix…1 they already took their coins and 2 I'm bout to start Greys Anatomy soooo💁🏽but I'm rooting for ya sis

— Wendy Whaliams (@hellooDoMo) January 19, 2018
These folks are HILARIOUS! So as you can see, many would like to support our girl but there's just something about Netflix that's hard to let go of. We understand Monique's point-of-view and there should definitely be some type of renegotiating. Hopefully they can come to some type of agreement. We're rooting for you Mo!