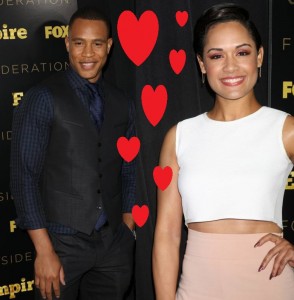 ITS OFFICIAL YOU GUYS! Two cast mates on the popular FOX series "Empire" will be tying the knot OFF SCREEN. That's right. Trai Byers, aka crazy 'Dre, has asked his on screen stepmommy-to-be for her hand in marriage. And actress Grace "Boo Boo Kitty" Gealey has happily said YES.
The happy occasion tooK place yesterday on Grace's birthday. We're guessing  Byers wanted to give his girl a night she would never forget. What better way to do that than proposing marriage with a big ol' engagement ring!
Here's what one of Grace's friends told Us Magazine about the magical moment.